Business Agility & Innovation Leader
Mon May 25, 9:00 AM - Tue May 26, 5:00 PM, 2020 (CEST)
Polyteknisk forening, Rosenkrantz' gate 7, Oslo, Oslo, Norway
How can we have something like a startup culture in our company?
How can we get new products to become fast-growing scaleups?
How do we reorganize ourselves for optimal execution and innovation?
Most companies are expected to screw up and die within the next two decades. They will be replaced by a new generation of disruptive startups and scaleups except for the organizations that learn how to disrupt themselves.
Description
The Shiftup Business Agility & Innovation Leader training is a two-day workshop that teaches the principles and common practices of Lean-Agile business innovation.
It is a combination of facilitator-led instruction, peer discussion, and team exercises. The workshop helps attendees understand how innovation works across the lifecycle of a business, and it makes them aware of their role in the creation and delivery of innovative products and services in continuously changing environments.
Starting new teams and scaling up innovation is more critical than ever. The key to success is applying different practices in different stages of the innovation lifecycle. What works for a new business does not work for a mature one, and vice versa. In this workshop, you will nosedive into the major good practices for business leaders and product teams, from the moment they have an innovative idea to the day they will scale it up (or screw it up). Everything depends on the lifecycle stage of the product or service.
What you will learn
In two days, you will learn how managers, leaders, designers, and developers need to organize their work differently to create an organization that can reinvent itself continuously and that can scale tremendously.
Audience
This workshop is for you if:
You are a coach, consultant, team manager, business leader, product designer, product developer, product manager, project manager, or a human resource manager.
You want to achieve a foundational understanding of how innovation tools fit into the larger picture of your business life cycles.
Your company aims to achieve a coherent approach to a startup and scaleup culture.
This is a foundational workshop, meaning that no knowledge or certifications of lean thinking, business agility or innovation are required. However, having some experience with new product development and business management (in any role) will make attendance easier.
Agenda
Day one
The Business Lifecycle
Change, Agility, Innovation, Value & Complexity, The 10 Business Lifecycle stages, Problem/Solution Fit, Product/Market Fit, Business/Market Fit.
The Business Quilt
The pieces of the Business Model Quilt, Business Model Canvas, Lean Canvas, Minimum Viable Products, Pivot, Patch & Persevere.
The Innovation Vortex
The seven streams of the Innovation Vortex, Design Thinking, Lean Startup, Design Sprints, Lean Personas, Jobs To Be Done, Journey Maps.
Day two
Lean-Agile Principles
Agile Manifesto, Lean Thinking.
Purpose & Objectives
Product Vision, Hoshin Kanri, North Star Metrics, Objectives & Key Results.
Performance & Metrics
Velocity, Burn Rate, Queue Length, Flow Efficiency, Burn Charts, CFDs, Pirate Metrics.
The Innovation Funnel
Innovation Board, Innovation Accounting, Metered Funding.
Lean-Agile Mindset
Growth Mindset, Mental Models.
Certification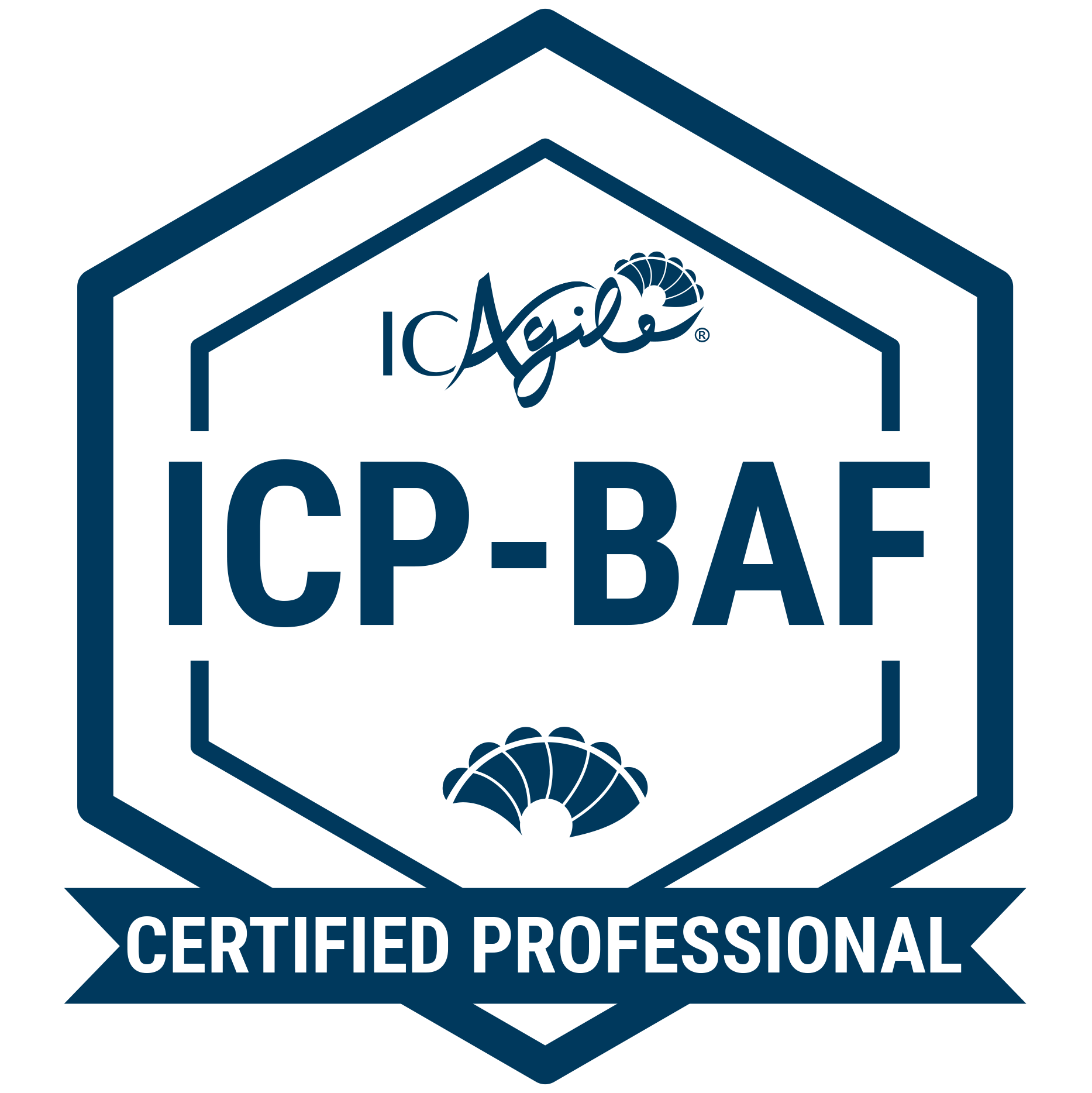 The workshop teaches participants to apply Lean-Agile thinking to all aspects of business innovation. Attendees automatically qualify to become an ICAgile Certified Professional in Business Agility Foundations (ICP-BAF).
Practical information
Language
Norwgian or English (depending on the participants).
Prerequisite
None, although we recommend some familiarity or experience with product design, product development, team management, business consulting, agile transformation, and organizational change.
Class size
Up to 25 people.
Time
9.00-17.00 with a one-hour break.
Materials
All digital materials will be offered through an app on smartphones and tablets (Android only, for now). Attendees are suggested to bring their own, but some extra devices will be available for shared usage.
Format
Participants will work in small groups to collaboratively complete exercises, discuss their findings and play serious games to understand possibilities for applying what they have learned. The instructor is available full-time, leading the lectures, questions, and discussions.
Jurgens latest book
Startup, Scaleup, Screwup is the book for the new generation of founders. With a mix of 50% inspiring stories and 50% practices to follow, it dives into the major topics that entrepreneurs and business leaders are confronted with from the moment they start a new company to the day they close the doors behind them.
It is also a book about the European successes: Spotify, Typeform, Zalando, Booking, Rovio, and many others, have stories that are waiting to be told. Where do they get innovative ideas? How do they pick from funding options? How do they stay lean and agile while growing? And what were their biggest mistakes so far?
About the venue
Norway's Polytechnic Society is the knowledge-based member network for sustainable technology and social development - through interdisciplinary insight, inspiration and influence - since 1852.
The Polytechnic Society is independent, interdisciplinary and non-commercial, and has over 2000 personal, corporate and organizational members. Through professional networks, meetings and partnerships across sectors, the Polytechnic Society facilitates dialogue on important topics in technology, society and business.
HM The King Harald and HRH The Crown Prince Haakon Magnus are honorary members, and HM The King grants the Polytechnic Society's President and Secretary General audience at the Royal Palace twice a year.
The years ahead will be about creating solutions for the UN's sustainability goals through technological advances, good leadership and partnerships locally and globally. With 167 years of vitality, the Polytechnic Society is well equipped for the task.
The homepage of The Norwegian Polytechnic Society.
Refund policy
Cancellations more than 14 days before the workshop will give you a full refund.
Interested in other workshops?
See workshops.no
Polyteknisk forening, Rosenkrantz' gate 7, Oslo, Oslo, Norway